MISSING 12-YEAR-OLD JULIJA POGAČAR FROM SLOVENIA
Days since disappearance: 761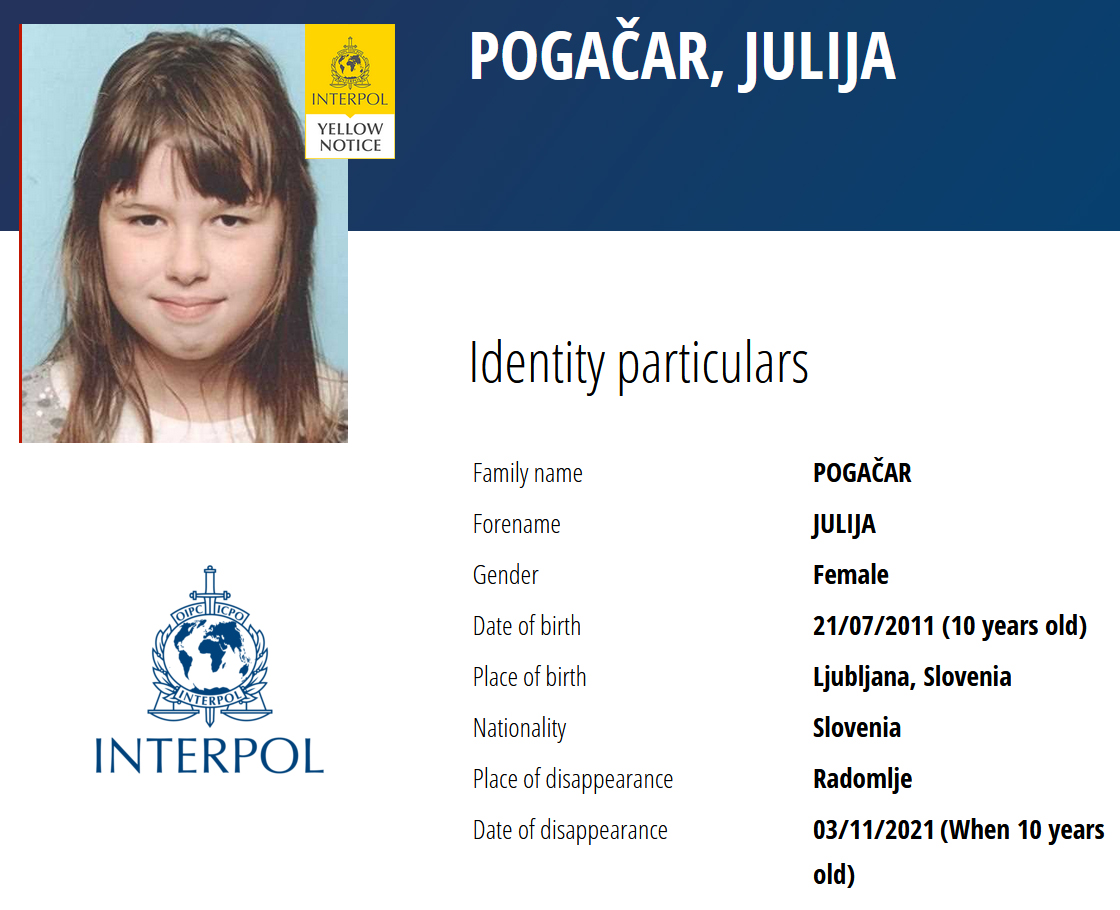 ---
My Story
---
I offer a reward of 10,000 EUR for information that will lead us to Julija and help bring her home safely.
---
Photos of Julija and me
Julija Pogačar (my daughter)
age: 12 years | height: 150 cm
---
People Julija Might be With
Melisa Smrekar (Julija's mother)
age: 53 years | height: 168 cm


Anka and Luka Ule (married couple, both fluent in Spanish language)
Luka Ule, age: 45 years | height: 175 cm
Anka Ule, age: 42 years | height: 160 cm
---
I offer a reward of 10,000 EUR for information that will lead us to Julija and help bring her home safely.
---
Full Story
My name is Peter Pogačar and I come from Slovenia. My 12-year old daughter Julija Pogačar has been missing since November 3, 2021. On that Wednesday, approximately at 17:30, she and her mother Melisa Smrekar, together with spouses Anka and Luka Ule, disappeared.
show more
Anka and Luka Ule said goodbyes to their respective families and said that they were leaving for Spain where they intended to live in a shed, somewhere in the woods in the hills with no cell signal coverage. They also mentioned that the journey would take 3 to 4 days. Taking this information into account, I presume they left with a car and drove to Spain, either to Huelva or Cádiz, and possibly took a ferry to the Canary Islands. Anka and Luka Ule are fluent in Spanish, which makes the suspicion that they are in Spain even stronger.
Anka Ule's brother called her on the phone on November 14, 2021 (11 days after the disappearance) and talked to her. She said she and Luka were in Spain in some hilly region. When her brother asked her about Melisa and Julija, she denied knowing them. After that call both Anka and Luka's phone numbers became unavailable, which remains so to this day.
It seems that their main objective is to stay hidden, so in theory they could be anywhere inside the Schengen area or in any country within the European Union. It is more unlikely that they travelled outside the EU as their passports would surely be checked then.
I assume that Julija and Melisa are still together with Anka and Luka Ule, although that is not certain. Maybe it would be easier to track down Anka and Luka Ule as they seemingly don't have a proper reason to stay hidden forever.
Because none of them use a cell phone, internet or social networks, it is much harder to track them down. Melisa only took her and Julija's personal documents with her and left her bank cards, her cell phone and her laptop at home.
Melisa Smrekar is associated with Lana Praner – the spiritual leader of the »Lana Praner z Gospodi« (Lana Praner with the Lords) religion – from as early as 2013. Lana Praner relocated from Slovenia to the Azores Islands in 2020. Members of her religion claim that Lana is untouchable and that no-one is allowed to visit her or live near her. But her current living address makes me believe that the four missing persons also live somewhere on an island or continental Europe where the climate is mild. I also believe that Lana Praner knows where the four missing are, or at least has the means to acquire this information.
Lana Praner's sect is believed to have communes across Europe, so it is possible that the four missing persons are hiding in one of them. Lana and her believers are radical conspiracy theorists, believing that rich people want to enslave us, that the 5G signal is dangerous, that Covid-19 tests and vaccinations insert microchips in our bodies, that planes with the so called »chemtrails« poison us, etc. Since Julija accompanied her mother Melisa to Lana's workshops in the past, she also believes in these theories and is deeply indoctrinated. Melisa believes that she saved herself and Julija from certain death with this escape. If I correctly understand the principles of their religion, aliens will come and save them.
Julija also has two step-brothers (Melisa's sons), 31 and 26 years old respectively. They are in a great distress, just like me. When we realized that Melisa and Julija were not coming back, we reported it to the police, who have been actively searching for Julija and Melisa for 5 months now.
I have full custody over Julija. It is paramount for her normal development that she returns home as soon as possible, continues attending 5th grade of primary school and sees her family and friends again. At the present moment I cannot imagine her suffering and what she is going through and I am sure the quality of her current life is very poor, more so because they have to hide and live on a minimal spending. Her medical care in case of any illness is surely very questionable if existing at all. Julija is also not attending school now.
I beg you to help me find my Julija. Please publish photos of all four (Julija Pogačar, Melisa Smrekar, Anka and Luka Ule) in hope that someone saw them and will come forward. If you need any additional information, please don't hesitate to contact me.
show less
---
Links
Interpol Yellow Notices
Slovenian Police – Missing Persons
---
Please share this page with anyone who might have seen Julija. If you have any information, contact me or your local police department.